Hamakichi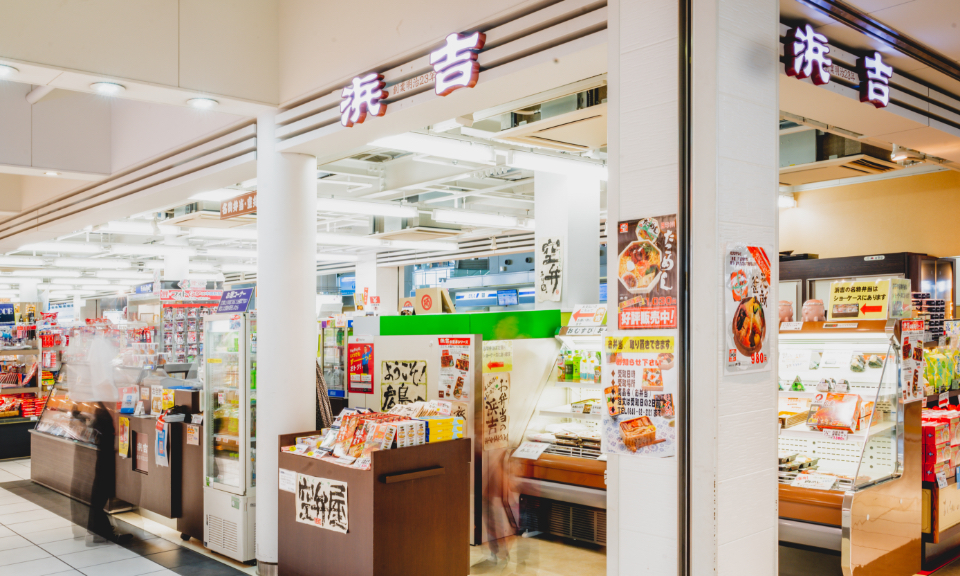 2F Lunchboxes and Souvenirs
A Wide Variety of Light Meals, Lunchboxes, Souvenirs, Alcoholic Beverages, and Soft Drinks
This store carries a large selection of sandwiches, mini lunchboxes, lunchboxes prepared with local delicacies, the famous Hiroshima airport lunchboxes, and much more. This is a great place if you are looking for a light meal. Be sure to check it out if you ever happen to come to the airport.
Conger Eel Rice Bowl - Hiroshima Airport Specialty
1,150 yen (tax included)

This rice bowl is topped with all of the best parts of conger eel.
It comes in a compact-sized box designed to be taken on board.

Airport Inari Lunchbox
830 yen (tax included)

This fun lunchbox contains three different traditional "inarizushi" wraps (rice wrapped in fried tofu), which are actually turned inside out. They are topped with octopus, conger eel, and a mixture of minced pork and beef.
The sweet fried tofu is part of the reason why this dish is so popular.

GANSOCHINBEN TAKOMESHI
1,080 yen (tax included)

This is a lunchbox you can buy before boarding a train. It imitates the meals of Setouchi fishermen with a diverse combination of octopus, shrimps, eggs, and vegetables. This "train lunchbox" has been very popular for almost 70 years because of its exquisite textures and flavors.
Store information
2F
Domestic Departure Lobby (2nd Floor)
Business hours
Phone number
Website

Business hours

7:00 - 20:00

Phone number

0848-86-8817

Website
Other recommended restaurants