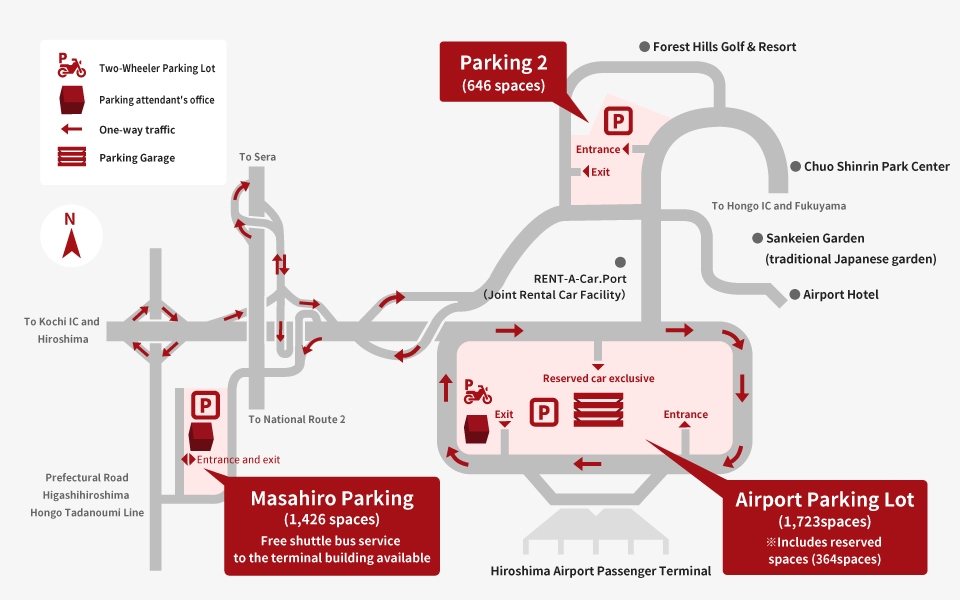 Parkings
Airport parking lot
| | |
| --- | --- |
| Business hours | Open 24 hours |
| Phone number | 0120-72-8924 The contact center |
Parking Fees
Regular vehicles
Large vehicles

(※2)

Two-wheelers

(※2)

After entering the parking lot
Up to 30 minutes
Free
Free
Free
Up to 60 minutes
100 yen
300 yen
50 yen
Up to 90 minutes
200 yen
600 yen
100 yen
Up to 120 minutes
300 yen
900 yen
150 yen
Every additional hour
150 yen
450 yen
100 yen
Maximum fee for every 24 hours
(Up to 72 hours)
800 yen
2,400 yen
400 yen
Maximum fee for every 24 hours
(After to 72 hours)
700 yen
2,100 yen
350 yen
Parking 1, Parking 2
| | |
| --- | --- |
| Business hours | Open 24 hours |
| Phone number | 0120-72-8924 The contact center |
Parking Fees
Parking 1
Parking 2
After entering the parking lot
Up to 30 minutes
Free
Free
Up to 60 minutes
100 yen
100 yen
Up to 90 minutes
200 yen
200 yen
Up to 120 minutes
300 yen
Every additional hour
150 yen
100 yen
Maximum fee for every 24 hours
(Up to 72 hours)
800 yen
800 yen
Maximum fee for every 24 hours
(After to 72 hours)
700 yen
700 yen
※At Parking 1, Parking 2, the exit lane on the right can be used by those eligible for a discount for people with disabilities
Pick up the receiver attached to the pay station at the exit lane. You will be connected to the contact center. Follow the instructions from the staff to show your disability certificate or a similar certificate to the camera next to the pay station.
You can also use your cell phone to call the contact center. (Phone number: 0120-72-8924)
※Please note that we do not reimburse discounts for people with disabilities after you have paid the full rate at the pay station.
Masahiro Parking (shuttle bus service available)
Business hours
6:30-22:00 (may be adjusted to meet the last flight time)
Phone number
0848-86-0400
Parking rate
(regular car)
150 yen per hour, 500 yen after three hours. 500 yen per day from the second day onward (trucks and other large vehicles pay 400% of the aforementioned rates.)
※There is a free transfer from the parking lot to the terminal building.
Other
Parking passes (only usable at Parking 2 and Masahiro Parking)
[Parking 2] One month: 5,000 yen; one year: 50,000 yen (Ticket vending machines are located on the bridge connecting to the parking lot)
[Masahiro Parking] One month: 5,000 yen; one year: 50,000 yen (available for purchase at the Masahiro Parking attendant's office between 6:30 and 22:00)