Nishikido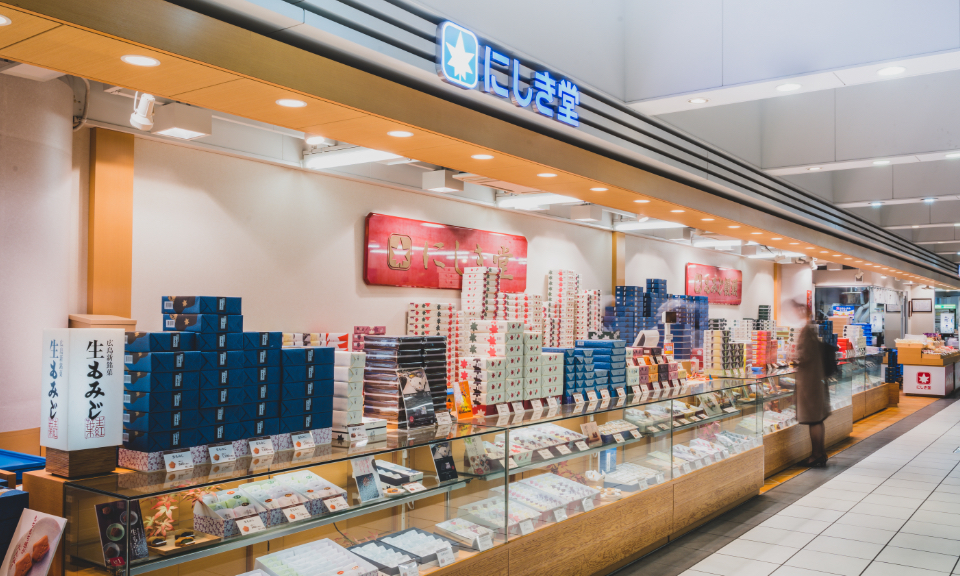 2F Souvenirs and Local Specialties
Fresh Momiji Manju Souvenirs!
Here you can observe how "momiji manju," famous Hiroshima cakes filled with sweet paste, are actually made. Be sure to try some momiji manju that are served hot and fresh from the oven. You will not find such crispy crust and smooth sweet paste anywhere else!
You can also buy a whole box of freshly baked cakes.
Nama Momiji (Glutinous Cakes) (Strained Bean Paste) 150 yen (tax included)

These cakes are made from regular rice flour produced in Hiroshima Prefecture, which gives the dough a supple and moist texture. Be sure to try this refined flavor created with only the finest ingredients.

Momiji Manju (Strained Bean Paste) 120 yen (tax included)

These cakes consist of softly baked dough wrapped around sweet strained bean paste made from carefully selected beans grown in the Tokachi region in Hokkaido and water from a famous spring on Hinourayama Mountain in Hiroshima Prefecture. The moderately sweet, simple, and natural flavor has been awarded the "Hiroshima Brand" certification.

Atarashi Momiji (Cream Cheese/Chocolate/Lemon Cakes) 140 yen (tax included)

The filling made by Andersen, a famous pastry shop from Hiroshima, and the original dough recipe developed by Nishikido create a completely new texture and unique aroma that you will not find in any of the traditional "momiji manju" cakes (cakes with sweet bean paste) or conventional cakes. You can choose from three different flavors created by an exclusive mixture of locally produced ingredients.
Store information
2F
Domestic Departure Lobby (2nd Floor)
Business hours
Phone number
Website

Business hours

7:00 - 20:00

Phone number

0848-86-8778

Website