OYSTER FARM Hiroshima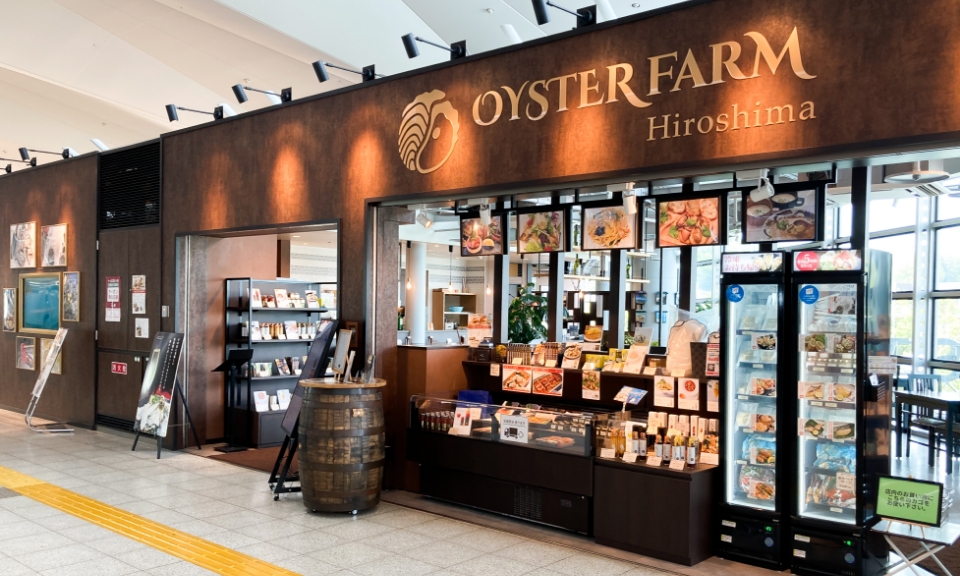 2F Japanese Cuisine and Noodles
Oyster Bar Offering Hiroshima Oysters and Other Delicacies of the Setouchi Region
"OYSTER FARM Hiroshima" provides more than just oysters. From "Etajima olives," a specialty of Etajima Island, and "Setouchi caviar" produced in Japan, to "Taoshita beef," a brand beef from Takehara in Hiroshima Prefecture, "Geihoku Kougen pork," and more, you can enjoy carefully selected ingredients raised in the sea or nature of the Setouchi region together with your oysters.
Raw Oysters with Caviar 2,970 yen (tax included)

The oysters are raised on rafts off of "Okurokamishima Island," an area approximately 30 km offshore in Hiroshima Bay which is outstanding even in the Seto Inland Sea for its purity. Due to its distance from any rivers, this sea area has a high concentration of salt, providing oysters with a deep, rich flavor and firm texture.

Hiroshima Specialty Flavor Rice Bowl 2,420 yen (tax included)

This luxury rice bowl features the Hiroshima specialty ingredients of oysters, conger eel, and Taoshita beef seasoned with a special sauce.

Plate with Miso-Marinated and Broiled Japanese Spanish Mackerel 1,870 yen (tax included)

This set includes broiled fish marinated in miso by an artisan of Japanese cuisine, along with rice.
Store information
2F
Domestic Departure Lobby (2nd Floor)
Business hours
Phone number
Website

Business hours

8:00 - 20:00

Phone number

0848-86-8330

Website
Other recommended restaurants