交通方式

2019/10/28

The Airport Limousine bus has operated the "Heiwa Odori Line"!
"The Heiwa Odori Line" is adding to the Hiroshima Airport Limousine bus route.

It is very convenient to access the hotel along the Peace Boulevard (Heiwa Odori) located in the center of Hiroshima City. Also, it is very convenient to go to the A-Bomb Dome and the Hiroshima Peace Memorial Park. Please take it when you stay the hotel in Hiroshima city.

※Please click here(10.27~01.31) for more information.
Timetable
■Heiwa Odori -> Hiroshima Airport
 Please click here about the timetable
■Hiroshima Airport -> Heiwa Odori
 Please click here about the timetable
Fares
1,570 Yen/ one way
* Transit system IC cards(such as "Suica" ,"PASMO" ,"ICOCA" ,"PASPY" etc) can be used for the payment.
(Until 16th March 2018, only "ICOCA" and "PASPY"are accepted.)
※ When you get on/ off Hiroshima Bus Center or Nakasuji St., the fares is 1,370 Yen/ One way.
Bus Stop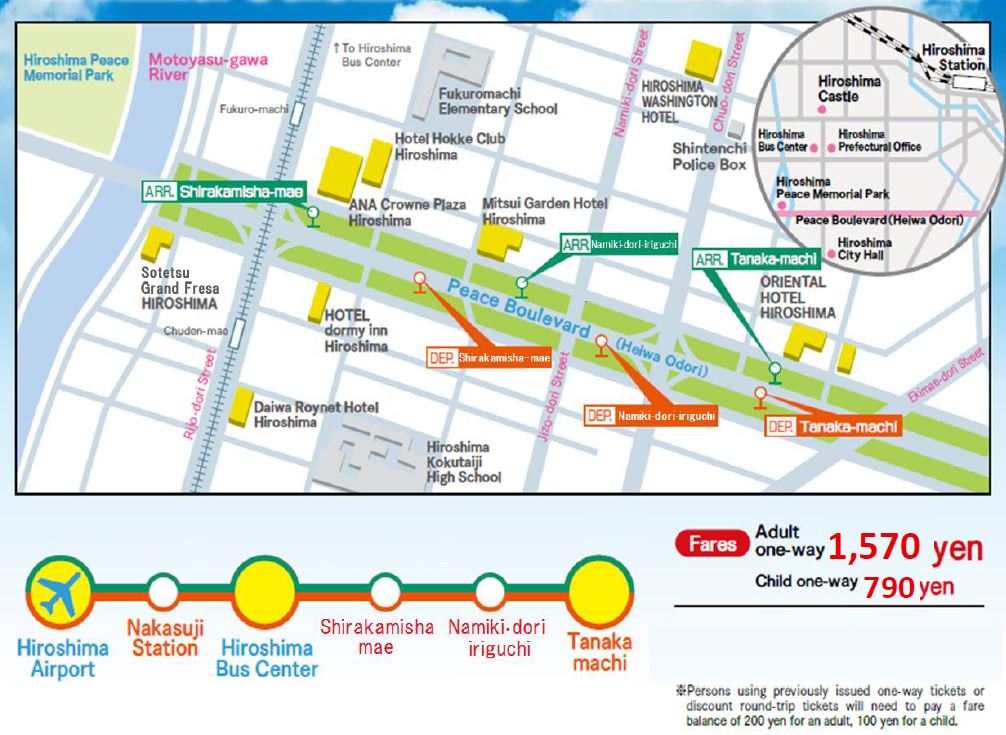 Note
When you stay the hotel along the Heiwa Odori, Please refer the below table.
Contact
Hiroshima Electric Railway Tel: 082-231-5171