Transportation

2019/10/28

Miyoshi - Hiroshima Airport route is now in service!
Please take this bus when you visit Miyoshi or Sera for sightseeing and business, or when you go to Hiroshima Airport from Miyoshi or Sera!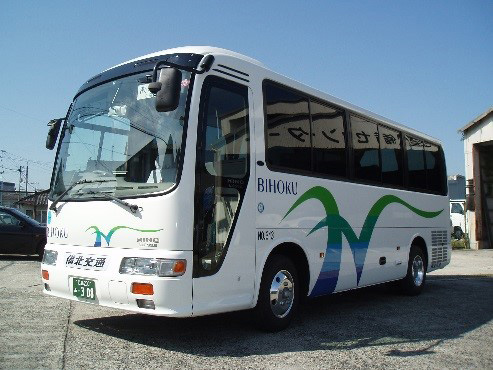 What's new?
◎Hiroshima Airport ⇔Miyoshi :82min!
◎3 services a day (everyday) along with flight schedule!
◎If you take roundtrip, you can get some discount for parking fee of Miyoshi Station West Parking Lot!
◎If you use a coupon ticket (1 book=10 tickets), you can get some discount!
※No coupon ticket for the route between Yama-no-eki Sera and Hiroshima Airport.



Stops and timetables(February 1, 2020 - March 31, 2020)
<February 1, 2020 - March 31, 2020>
【Miyoshi → Hiroshima Airport】
| Bus stop | 1st | 2nd | 3rd |
| --- | --- | --- | --- |
| Miyoshi Industrial Complex | 06:39 | 12:54 | 17:29 |
| Miyoshi Central Hospital | 06:46 | 13:01 | 17:36 |
| Miyoshi Royal Hotel | 06:50 | 13:05 | 17:40 |
| Miyoshi Sta. (Platform No.3) | 06:55 | 13:10 | 17:45 |
| Minami-Ohshimo | 06:59 | 13:14 | 17:49 |
| Mirasaka | 07:12 | 13:27 | 18:02 |
| Kisa Junior High School | 07:22 | 13:37 | 18:12 |
| Yama-no-eki Sera (Taiho Farm) | 07:42 | 13:57 | 18:32 |
| Hiroshima Airport | 08:17 | 14:32 | 19:07 |

<February 1, 2020 - March 31, 2020>
【Hiroshima Airport → Miyoshi】
| Bus stop | 1st | 2nd | 3rd |
| --- | --- | --- | --- |
| Hiroshima Airport (Platform No.3) | 10:40 | 15:30 | 20:20 |
| Yama-no-eki Sera (Taiho Farm) | 11:15 | 16:05 | 20:55 |
| Kisa Junior High School | 11:35 | 16:25 | 21:15 |
| Mirasaka | 11:45 | 16:35 | 21:25 |
| Minami-Ohshimo | 11:58 | 16:48 | 21:38 |
| Miyoshi Sta. | 12:02 | 16:52 | 21:42 |
| Miyoshi Royal Hotel | 12:07 | 16:57 | 21:47 |
| Miyoshi Central Hospital | 12:11 | 17:01 | 21:51 |
| Miyoshi Industrial Complex | 12:18 | 17:08 | 21:58 |
Stops and timetables(Apr.1,2020 - Jun.30,2020)
<Apr.1,2020 - Jun.30,2020>
【Miyoshi → Hiroshima Airport】
| Bus stop | 1st | 2nd | 3rd |
| --- | --- | --- | --- |
| Miyoshi Industrial Complex | 06:39 | 12:54 | 17:29 |
| Miyoshi Central Hospital | 06:46 | 13:01 | 17:36 |
| Miyoshi Royal Hotel | 06:50 | 13:05 | 17:40 |
| Miyoshi Sta. (Platform No.3) | 06:55 | 13:10 | 17:45 |
| Minami-Ohshimo | 06:59 | 13:14 | 17:49 |
| Mirasaka | 07:12 | 13:27 | 18:02 |
| Kisa Junior High School | 07:22 | 13:37 | 18:12 |
| Yama-no-eki Sera (Taiho Farm) | 07:42 | 13:57 | 18:32 |
| Hiroshima Airport | 08:17 | 14:32 | 19:07 |

<Apr.1,2020 - Jun.30,2020>
【Hiroshima Airport → Miyoshi】
| Bus stop | 1st | 2nd | 3rd |
| --- | --- | --- | --- |
| Hiroshima Airport (Platform No.3) | 10:40 | 15:30 | 20:05 |
| Yama-no-eki Sera (Taiho Farm) | 11:15 | 16:05 | 20:40 |
| Kisa Junior High School | 11:35 | 16:25 | 21:00 |
| Mirasaka | 11:45 | 16:35 | 21:10 |
| Minami-Ohshimo | 11:58 | 16:48 | 21:23 |
| Miyoshi Sta. | 12:02 | 16:52 | 21:27 |
| Miyoshi Royal Hotel | 12:07 | 16:57 | 21:32 |
| Miyoshi Central Hospital | 12:11 | 17:01 | 21:36 |
| Miyoshi Industrial Complex | 12:18 | 17:08 | 21:43 |
Fares
【Miyoshi Industrial Complex ~ Miyoshi Sta. and Minami-Ohshimo ⇔ Hiroshima Airport】
(One-way) Adult: 1,320yen Child: 660 yen
(Roundtrip) Adult: 2,240yen Child: 1,120 yen
(Coupon ticket) one-way: 1,020yen (1book=10tickets, 10,200yen)
【Kisa Junior High School ⇔ Hiroshima Airport】
(One-way) Adult: 810yen Child: 410yen
(Roundtrip) Adult: 1,380yen Child: 690yen
(Coupon ticket) one-way: 626yen (1book=10 tickets, 6,260yen)
【Mirasaka ⇔ Hiroshima Airport】
(One-way) Adult: 1,020yen Child: 510yen
(Roundtrip) Adult: 1,730yen Child: 870yen
(Coupon ticket) one-way: 784yen (1book=10 tickets, 7,840yen)
Inquiries about the shared taxi service
Bihoku Corporation (9:00~18:00, on weekdays):
0824-72-2122

Regional Promotion Division, Regional Promotion Department, Miyoshi City Office (8:30~17:15, on weekdays):
0824-62-6395
Topics from Hiroshima Airport:Topics Detail